Invitation for final demonstration of GreenHopper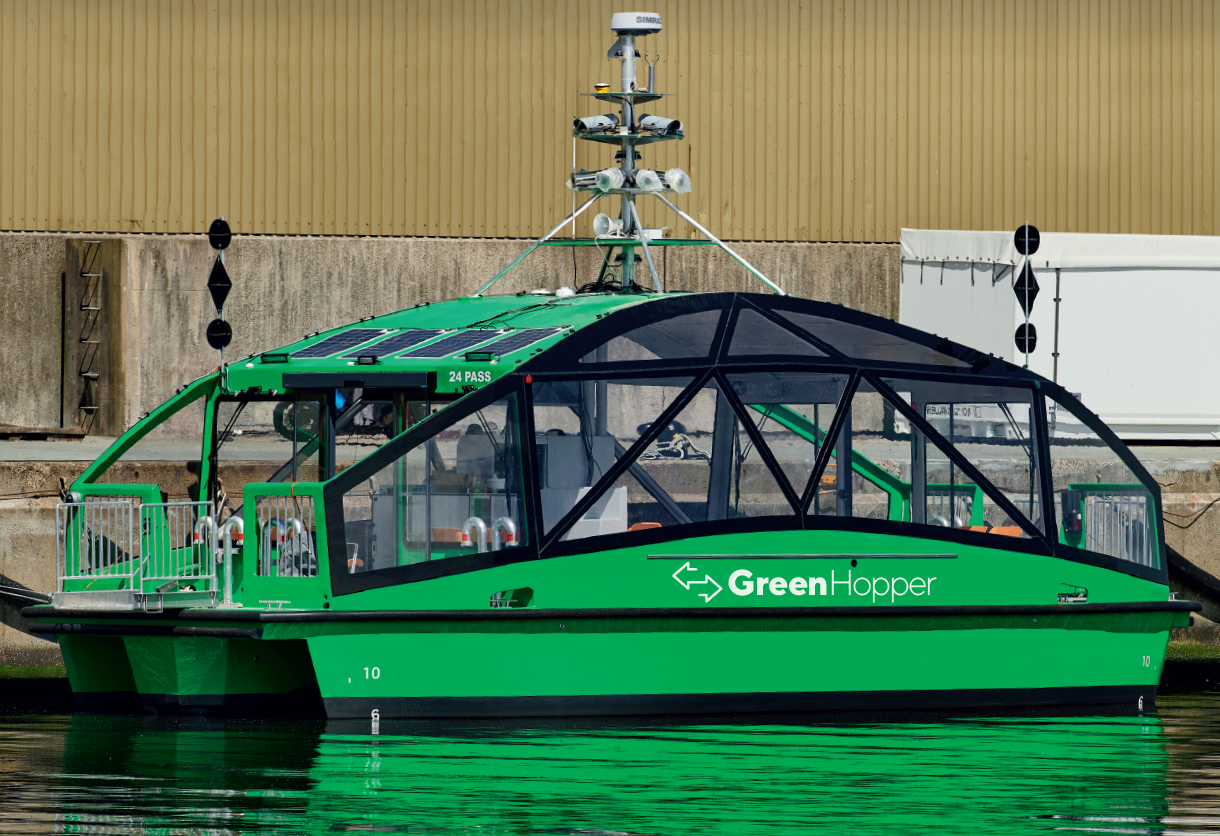 On Friday, December 16, the partners in ShippingLab's work package on autonomy is performing the final demonstration of GreenHopper in Aalborg.
The harbour bus GreenHopper connects Stigsborg Brygge with Aalborg. Through ShippingLab, the partners Port of Aalborg, Logimatic, Danelec, Tuco Marine ApS – ProZero Workboats, Wärtsilä and DTU Electro have developed the autonomous systems that enables unmanned operation of the harbour bus.
It will be possible to sail with the GreenHopper at the event on December 16 and learn more about the collaboration and the autonomous developments made in ShippingLab.
At the event presentations will be given by Kristian Thulesen Dahl from Port of Aalborg, Jenny Braat from Danske Maritime, Lars-Ulrik Aaen Andersen and Mogens Blanke from DTU Electro and Troels Severinsen from Logimatic.
Further, there will be held an event in the afternoon focusing on the technical developments made by the Frederik Schöller, Dimitrios Papageorgiou, Nicholas Hansen, Roberto Galeazzi, Dimitrios Dagdilelis and Mogens Blanke all from DTU Electro and Søren Abildsten Bøgh from Logimatic.
Final demonstration of GreenHopper
 Register here:
General programme for the final demonstration of the GreenHopper | Port of Aalborg (nemtilmeld.dk)
Programme
| | |
| --- | --- |
| 09.00 – 10.30 | Demonstration of GreenHopper – registered guests can experience sailing with GreenHopper. See below for registration. |
| --- | --- |
| 09.00 | Registration and light breakfast |
| 10.30 | Welcome and opening remarks by Magnus Gary, Project Director, ShippingLab |
| 10.45 | Presentation by Kristian Thulesen Dahl, CEO, Port of Aalborg |
| 11.00 | Presentation by Jenny Braat, CEO, Danske Maritime |
| 11.15 | Presentation by Lars-Ulrik Aaen Andersen, Head of Department, DTU ELECTRO |
| 11.30 | Presentation by Mogens Blanke, Work Package Leader – ShippingLab Autonomy and Professor, DTU ELECTRO |
| 11.45 | Presentation by Troels Severinsen, CEO, Logimatic Engineering |
| --- | --- |
| 12.00 – 13.00 | Lunch and networking |
| --- | --- |
| 12.00 – 15.30 | Demonstration of GreenHopper – registered guests can experience sailing with GreenHopper. See below for registration. |
| --- | --- |
---

---

The anatomy of GreenHopper's autonomy – the technical perspective

Individual registration for the technical event is necessary.

Register here:
The anatomy of GreenHopper's autonomy – the technical perspective | Port of Aalborg (nemtilmeld.dk)

13.00
Autonomy Coming of Age
 
by Mogens Blanke, Work Package Leader – ShippingLab Autonomy and Professor, DTU ELECTRO
13.20
Camera Perception for Marine Craft
 
by Frederik Schöller, Post.Doc, DTU ELECTRO
13.40
Situational Awareness
 
by Dimitrios Papageorgiou, Assistant Professor, DTU ELECTRO and Peter Nicholas Hansen, PhD candidate, DTU ELECTRO
14.00
Collision Avoidance for Limfjorden
 
by Roberto Galeazzi, Associate Professor, DTU ELECTRO
14.20
Resilience for GPS Denied Navigation
 
Dimitrios Dagdilelis, PhD candidate, DTU ELECTRO
14.40
GreenHopper:  Automation with Local or Remote Operation
 
by Søren Abildsten Bøgh, Head of Projects, Logimatic Engineering

---

---