Denmark is to become a driver of smart shipping of the future.
ShippingLab is a nonprofit innovation and project partnership in Blue Denmark. We collaborate to solve challenges that are too big to handle by anyone separate.
The journey towards Denmark's first autonomous and environmental friendly ship is started on March 1, 2019.
Almost 30 partners are working together on achieving this – but more partners and ideas are welcome.
One goal - four work packages
The Common goal in ShippingLab is to create "Denmark's first autonomous, environmental friendly ship."
With the launch of ShippingLab, the Danish maritime community initiates an ambitious platform for maritime research, development and innovation.
WP1 Digital ship operations
WP1 focuses on vessel modelling and developing more precise ship models and better estimation of the effects that the environment has on vessel and system performance. This work package will deliver tools and methodology for digital twinning of vessel in the seaway, using high frequency data. It is the aim that this work package will establish Denmark as a centre of excellence in performance management.
The consequence of digitalization in the shipping industry is believed to result in various expert systems communicating via API's, sharing models and data. In that context, this work package will ensure integration and interfacing between three different digital twins of the vessel: vessel performance when sailing in the seaway, systems and equipment monitoring, and continuous integration with the ship manoeuvring models.
The overall objective of WP 2 is be able to demonstrate autonomy up to unmanned operation on a Danish vessel.
The WP will achieve this objective by developing novel methods and algorithms for autonomous vessels where this is needed, and integrate with existing technology for navigation, steering, manoeuvring and berthing where this is possible.
The detailed objectives include:
– Demonstrate one-man operation of a ferry with temporally unattended bridge
– Demonstrate decision support as ad-on retrofit for vessel to enhance safety against grounding and collisions
– Demonstrate unmanned operation of harbour bus with built in safety in form of autonomous supervision that can enable shore assistance and remote manoeuvring control if needed.
An open system architecture and interface standard will be defined, that will make vendors able to supply equipment and deliver services and enable modular validation and approval of modules for autonomous vessels in the future.
Focus of the WP will be twofold. One case will be retrofit of existing vessels with ad-on autonomy functionality. Benefits include temporally unmanned bridge and enhanced safety against grounding and collisions.
Two other cases will focus on new-built electric ferries, where one-man operation shall be possible for a larger vessel, another will be a harbour bus with unmanned operation. Technology developed by innovative research in this WP aims specifically on enhancing the competitive edge of maritime suppliers located in Denmark.
WP3 Decarbonization – Zero emission area operation
Electrification of the ship propulsion is a way to introduce clean tech-solutions with low or no carbon footprint. This will enable using multiple power sources in a hybrid setup for all ship types. Hybrid or fully electric solutions exist for short-sea ferries. For ocean-going vessels, hybridization has been trialled in order to run the main engine at optimal loads, thereby reducing fuel consumption. Full-scale operation for these vessels is not currently possible until an alternative fuel or power source exist that rival the reliability of marine diesel engines.
The WP will focus on developing a test platform for clean-tech solutions with the aim of enabling full-scale emission free port stay for shipowners. The ladder is initially planned to be achieved through the coupling of fuel cell and battery technology, but the WP will contiuosly offer the test platform to clean-tech solutions within the overall objective of the WP and ShippingLab.
WP4 General management, Integration & Outreach
WP4 covers management of ShippingLab and the integration and outreach of the activities with the surrounding maritime environment. The objective of WP4 is to lead ShippingLab and ensure the coordination of activities between work packages, communicate and disseminate knowledge and results between stakeholders, and assist the Steering Committee.
Further, WP4 is concerned with outreach from ShippingLab, which is defined to be the following:
– Ensuring that the ShippingLab platform is anchored in the Danish maritime industry after the current project period is concluded
– Ensuring that other stakeholders than the current is involved in order to support the achievement of ShippingLab's overall objective
– Cooperating with other organisations, initiatives and networks
– Attracting students to the Danish maritime industry
– Communication and marketing in relation to ShippingLab
Organizations behind ShippingLab
The group starting ShippingLab represents a selection of Blue Denmark; but this is not a closed initiative and everyone is invited to join.
Danmark skal være driver for fremtidens smarte skibsfart.
ShippingLab er et non-profit innovation- og projektsamarbejde for partnerne i Det Blå Danmark. Fordi de største udfordringer ikke kan løftes alene men løses i fællesskab.
Deltag i opstarten af ShippingLab og vær med til at definere udviklingen. Du får –
adgang til viden og nye kompetencer
entreprenante medarbejdere
kommende konkurrencefordele
mulighed for støtte, testadgang og lavere risiko
Vi arbejder hen mod en samlet ansøgning til Innovationsfondens 'Grand Solutions' i august 2018 med en porteføjle af aktiviteter.
Download template
til projektforslag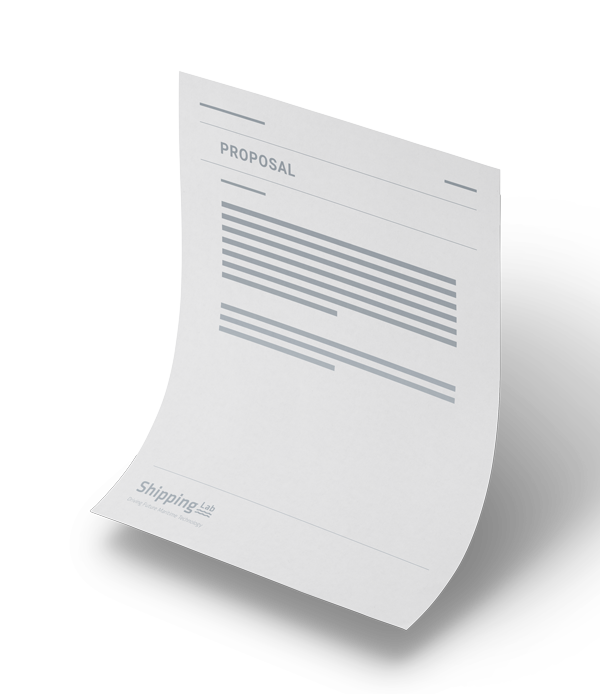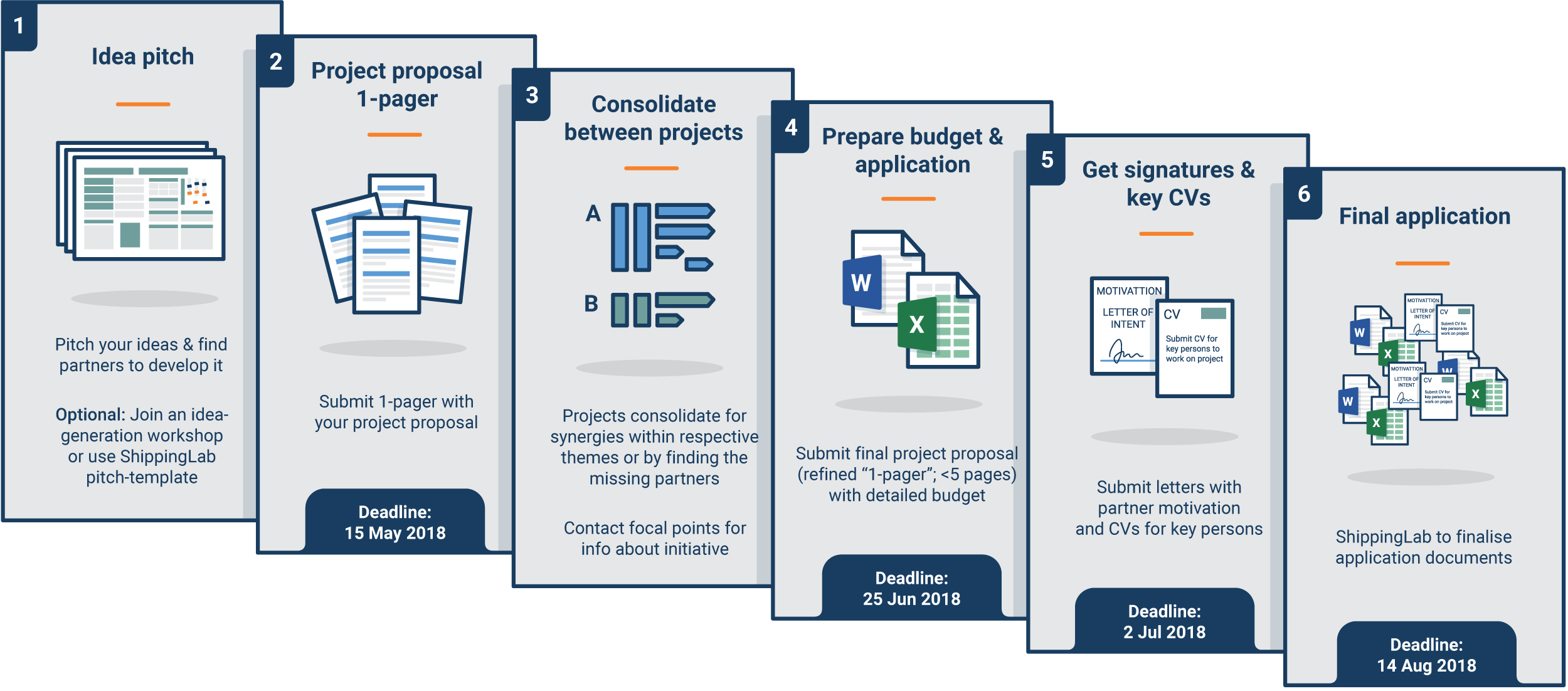 Projektforslag udviklet over de seneste måneder kan grupperes indenfor fem temaer. Kontakt Magnus Gary (mg@shippinglab.dk) eller koordinatorerne for hvert tema direkte for mere information.
1. Digitaliseret skibsoperation
En model-baseret tilgang og gode, pålidelige data skal gøre det muligt for besætning og land at træffe bedre beslutninger. Resultatet er den 'digitale tvilling' – en computermodel, som kan benyttes til digitalt at optimere drift – samt fejlsøge, udvikle og afprøve nyt udstyr bedre og hurtigere. Vi vil bruge den stærke tradition og know-how i Danmark til at skabe et 'centre of excellence' og tiltrække operatører og yderligere udvikling.
2. Automatisering og autonomi
Teknologiudvikling og nye kompetencer indenfor uafhængig navigation og maskinovervågning skal øge sikkerheden og reducere omkostninger fra operationen. Fokus er indenfor de områder, hvor Danmark er i front rent forskningsmæssigt og udstyrsleverandører kan modne produkter, hvor delelementer kan afprøves allerede i dag.
3. CO2-reduktion og emissionsfrit
Målsætningen med dette projekt er at demonstrere emission- og fossilfri energiforsyning ombord på eksisterende skibe, hvor et fælles test setup skal gøre resultaterne sammenlignelige. Første milepæl er uafhængige havneanløb uden CO2-udledning for store skibe – et skridt på vejen mod elektrificering og det helt emissionsfrie skib. CO2-udfordringen kan kun løses i fællesskab – og ved at investere nu, har vi en ambition om at gøre 'grøn transport' til en konkurrenceparameter.
4. Maritim teknologi og cirkulær økonomi
Hensigten er at være bannerfører med en cirkulær økonomi-tilgang til bæredygtighed og automatiseret ophug af skibe i Danmark. Automationsteknologien skal udvikles og de økonomiske, teknologiske og organisatoriske aspekter skal belyses, inden der kan etableres effektive cirkulær økonomi-baserede innovationscentre omkring ophug og genanvendelse i danske havne.
5. Integreret logistik og nye forretningsmuligheder
Automatisering af processer, fjernelse af data-siloer og digitalisering fra ende-til-ende skal effektivisere og binde logistik-flowet sammen mellem skib, havn, og speditør. Danmark skal være et videnscenter for integreret logistik til gavn for danske redere, havne og teknologileverandører på et globalt marked.
Theme 1: Digital ship operations – Denmark as centre of excellence for digital ship operations and vessels performance
Our objective is to develop the tool-sets for an efficient operation of todays and tomorrow's fleet. We expect to empower vessel crew and onshore support to make better decisions, using reliable data and a model-driven approach. How do we go from A to B in the most cost-effective way considering time and fuel consumption? How do we detect performance deviations and how do we diagnose and optimize equipment usage, both real-time and for maintenance planning?
Today, foreign operators relocate to Denmark because of attractive legal and industrial conditions. By integrating data and operational know-how, we aim to create a centre of excellence for digital ship operations – and thereby set up a value proposition for attracting operators to Denmark.
Coordinator:
Marie Lützen, SIMAC (mal@simac.dk)
Niels Gorm Rytter, AAU (i9nr@mp.aau.dk)
Participating organizations in the scoping phase include – Alfa Laval, C-LOG, DFDS, DTU, FORCE, J. Lauritzen, Logimatic, Maersk Tankers, MAN Diesel & Turbo, SDU, TORM, VP Solutions, AAU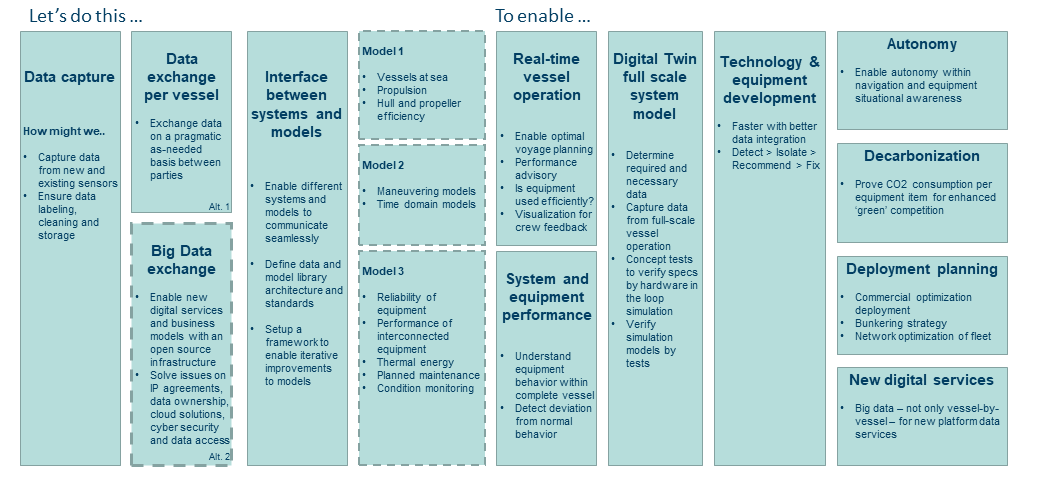 Theme 2: Automation and autonomy – develop core technologies and competences for unattended navigation and machinery supervision
In this project, we aim to make proof of concept demonstration of selected technologies that improve safety and reduce operational costs: electronic outlook, collision and grounding avoidance, auto-berthing, autonomous machine room supervision, and more. Such technologies will enable commuters in more sparsely parts of Denmark, dependent on small inland ferries to travel flexibly by having more regular or on-demand ferries. Furthermore, by reducing operational costs for short sea shipping, cargo will be removed from roads to more sustainable self-navigating cargo vessels.
Focus will be on areas, where research in Denmark is in front and where vendors could mature certain functions into commercialized products. The final integration will be based on open architecture and companion standards, to make it possible for vendors to supply equipment and deliver modular services.. A modular approach also makes it possible for ship owners to try out elements of the technology already today and begin data collection on existing vessels.
Denmark has a strong position within automation and this project will be a flagship demonstration to attract international attention and investments.
Coordinator:
Mogens Blanke, DTU (mb@elektro.dtu.dk)
Participating organizations in the scoping phase include – Danelec Marine, Dansk Brandteknisk Institut, DFDS, DTU, Fyns Maritime Klynge, Færgen, Lloyds, Logimatic, MAN Diesel & Turbo, NAVICON, SIMAC, Stigsborg Havnefront, Søfartsstyrelsen, Tuco Marine, Wärtsila-Lyngsø Marine, AAU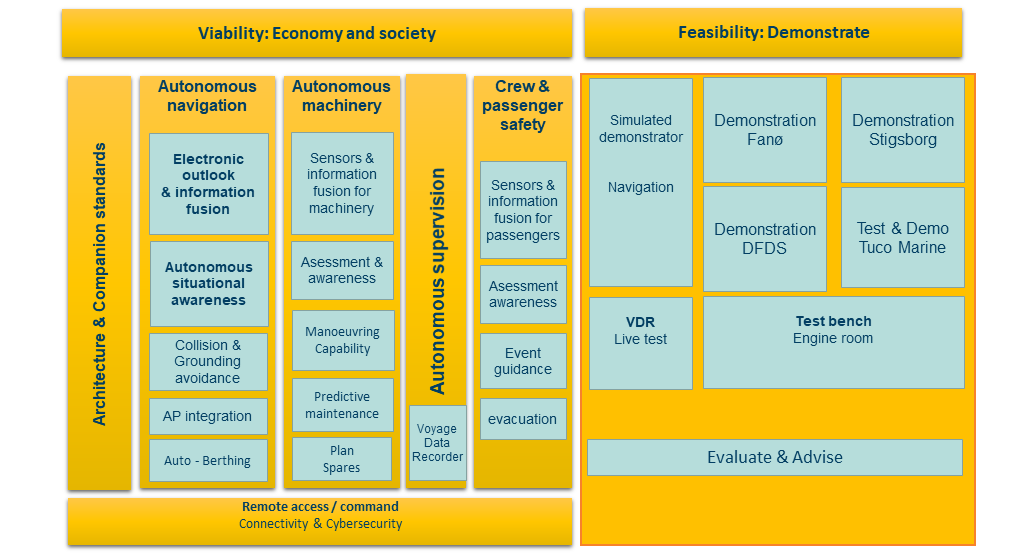 Theme 3: Decarbonization & zero emissions – how do we enable the green transition in shipping
By 2050, shipping must reduce CO2 emissions by at least 50% according to the latest IMO/MEPC72 agreements. This can only be done with the introduction of more fuel-efficient technologies in combination with adoption of new, fossil free fuels. In this project, we aim to establish a test setup enabling verification and knowledge-sharing of low emission technology. The intent is to demonstrate zero emission alternative power supplies on existing vessels during port operations – starting with hybrid fuel cells, stand-alone batteries, and alternative fuels in traditional engines (with NOx removal). For the successful technologies, large-scale implementation is possible, because of emission constraints enforced by 2020+. Further and more importantly, these technologies are a step towards electrification, on the road to the fully decarbonized vessel in a not too distant future.
Today, the demand for green innovation comes mainly from regulation and a desire to save fuel costs. However, with this project we also intend to explore a broader roadmap to a green transition. What steps can we take within shipping to create market awareness and enable consumers and cargo owners to decide their emission footprint? Based on experience from our test platform, what does zero emission shipping actually cost and are consumers willing to pay the difference?
Decarbonization is a challenge too big for anyone to handle separately. By investing in green technology, we work together to comply with regulation – but with an ambition to make 'green transport' a competitive edge.
Coordinator:
Majbrit Hoppe, Fyns Maritime Klynge (mghop@udviklingfyn.dk)
Anne Katrine Bjerregaard, Green Ship of the Future (akbj@mek.dtu.dk)
Participating organizations in the scoping phase include – Adnox, Ballard Power Systems Europe, Callenberg A/S, Danske Maritime, Danske Rederier, DFDS, DNV-GL, DTU, FORCE Technology, Fyns Maritime Klynge, Green Ship of the Future , Maersk Line, Maersk Tankers, Nordic Green, Renewable Energy Solutions, SDU, Teknologisk Institut, Umicore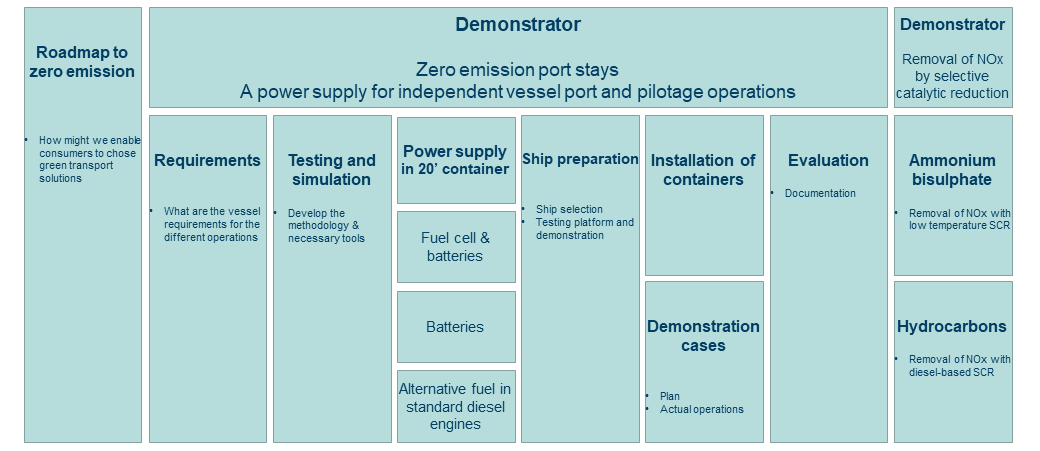 Theme 4: Maritime technology & circular economy – from waste to value
This project aims to promote and lead a circular economy model around sustainable and automated vessel recycling in Denmark. There are two objectives: firstly, to advance technology and automation for closed-loop, sustainable vessel recycling, and secondly, to explore the economic, technological and organizational feasibility of effectively creating circular economy innovation hubs around vessel recycling in key maritime areas in Denmark.
Today, CAD-connected (smart) robots can build ships by starting from the bottom, and even perform non-repetitive tasks. We believe that smart robots might do the reverse process and sustainably cut the ship down from the top. Demand for machinery and infrastructure to dispose of ships and rigs in a sound, safe and environmentally friendly manner is forecasted to increase. It poses an opportunity for Denmark to lead a transition towards sustainable, closed-loop (cradle-to-cradle) vessel recycling.
The project addresses various unresolved economic, social, environmental and health-related challenges in vessel design and construction, operation, and recycling. Among the most prominent challenges are the lack of proper incentives for ship owners to comply with existing regulations, economic inefficiencies, and the occupational health risks and severe environmental hazards of ship recycling as practiced today.
In short, this project will contribute to new value creation for the ports and different sectors of the maritime industry.
Coordinator:
Henrik Sornn-Friese, CBS (hsf.ino@cbs.dk)
Participating organizations in the scoping phase include – CBS, Gemba Seafood Consulting/Gemba Innovation, Litehauz, MARCOD, Njord Law Firm, Orskov Yard, PJ Diesel Engineering, Port of Frederikshavn, SDU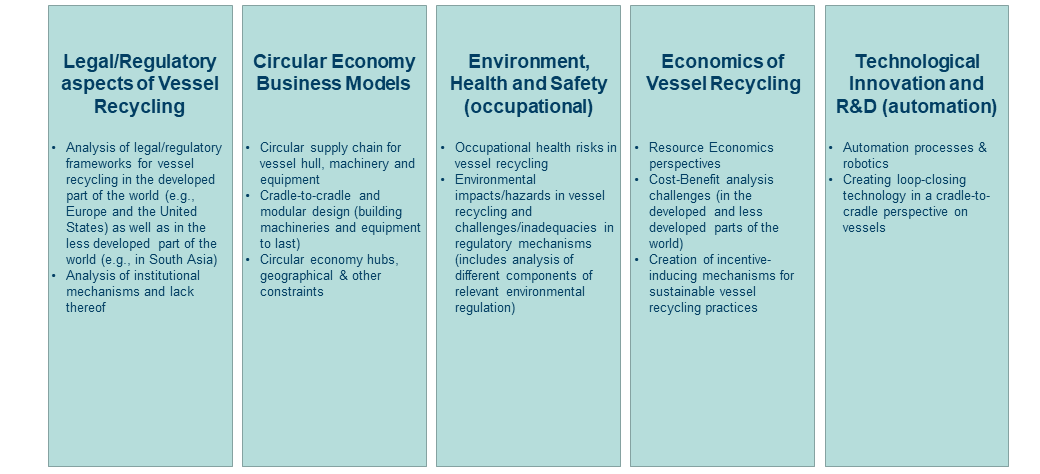 Theme 5: Integrated logistics & new business models – from road to sea
This project aims to remove data-silos between ship, ports, freight-forwarders, etc., and thus create new business opportunities with seamless digital integration in logistics. We envisage achieving end-to-end digitalization and optimization of the Ro-Ro shipping supply chain, including processes for haulage, gate and yard, load and discharge operations for cargo units (trailers, trucks, etc.). The project should develop and test relevant technologies for decision support tools and validate the commercial benefits of these, and finally – deliver a plan for how vendors can commercialize solutions and how end users (ports and shipping companies) can sequence their implementation of solutions and succeed in practice. If port operations are made more efficient (cost, time), vessels may reduce average speed on the sea to save fuel and overall environmental footprint. How do we use this data to optimize operation of the fleet for improved vessel utilization, bunker strategy and deployment planning?
Denmark is already a leading global player in liner shipping. In a few years, short sea shipping will be revolutionized with the advent of small cargo vessels using unattended navigation. Such technology has potential to move cargo from roads to more sustainable waterborne transport – but to do so require that current inefficiencies in data integration between port and vessel have been removed.
Coordinator:
Dario Pacino, DTU (darpa@dtu.dk)
Participating organizations in the scoping phase include – DFDS, DTU, Maersk Tankers, AAU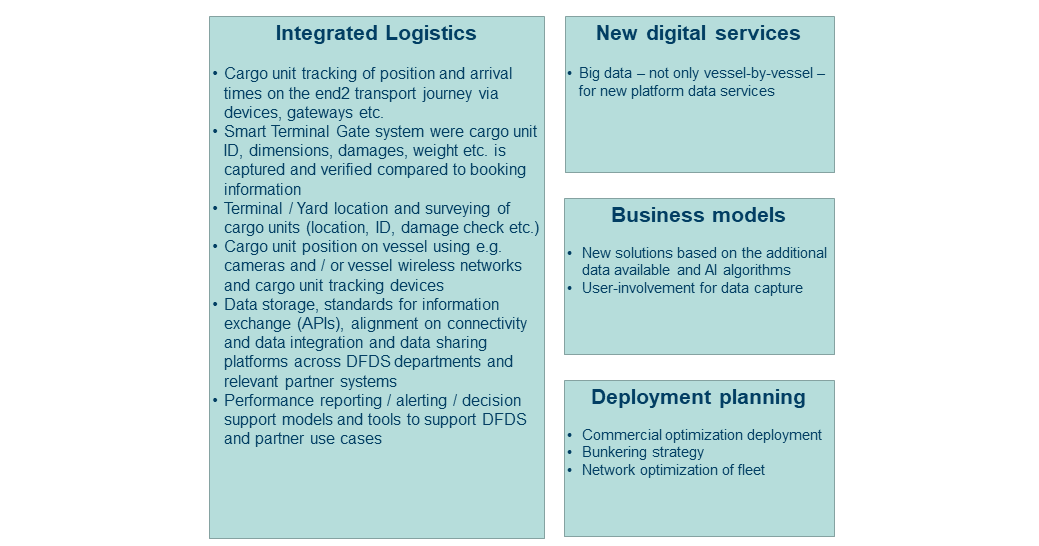 Projektforslagene fokuserer på et visionært og langsigtet mål – med et konkret løsningsforslag i tankerne. Kontaktpersonen for de enkelte forslag kan svare på spørgsmål vedrørende forslagene. Deadline for at indsende et 1-sides projektforslag er 15. maj.
Help asset managers optimize vessel-based operations
Support shipowners in the green transition
Enable consumers to compare transportation sustainability
Melina Kourantidou, SDU (mkour@sam.sdu.dk)
Enable flexible commuting by an on-demand ferry
Mogens Blanke, DTU (mb@elektro.dtu.dk)
Integrate planning in maritime supply chains
Dario Pacino, DTU (darpa@dtu.dk)
Make it easier for equipment manufacturers to share data and use them to improve uptime and performance of (CONNECTED) equipments and in turn increase efficiency of shipping
Atanu Chaudhuri, AAU (atanu@business.aau.dk)
Maritime Technology / Circular Economy
Develop circular economy hubs around maritime industry
Henrik Sornn-Friese, CBS (hsf.ino@cbs.dk)
Harness technology to improve passenger safety in the context of autonomous shipping
Evangelos Boukas, AAU (eb@mp.aau.dk)
Establish a test platform to enable verification of low emission technologies
Anne Katrine Bjerregaard, Green Ship of the Future (akbj@dtu.dk)
Help shipowners create transparency around fuel consumption
Jakob Buus Petersen, VP Solutions (jbp@vpsolutions.dk)
Help the fleet manager make best investment decisions based on data
Martin Nielsen, C-LOG (mani@c-log.io)
Digitalization / Maritime Technology
Enhance performance and maintenance from ship operations by accessing and diagnosing onboard data
Bodil Nielsen, Alfa Laval (bodil.nielsen@alfalaval.com)
Establish autonomous supervision of external & internal situation
Mogens Blanke, DTU (mb@elektro.dtu.dk)
Decarbonization / Digitalization
Help new equipment suppliers document/demonstrate the emission reduction effect in real life operation
Majbrit Hoppe, Fyns Maritime Klynge (mghop@udviklingfyn.dk)
Nogle projektforslag bør koordineres
Forslagene kan grupperes i ca. 5-6 temaer. En koordinator er blevet udpeget for hvert tema i forsøget på at reducere overlap og konsolidere de forskellige forslag til et integreret projekt. Hvis et indsendt forslag lægger sig tæt op ad et af temaerne, så vil du blive sat i kontakt med koordinatoren for dette tema, når projektforslaget indsendes. Kontakt Rune Hahn Kristensen (rk@shippinglab.dk) eller koordinatorerne direkte for mere information.
Projekter skal være i tråd med regeringens vækstplan og styrke porteføljen af ShippingLab's aktiviteter for at være med i den fælles ansøgning til 'Grand Solutions' programmet hos Innovationsfonden. Hvis det bliver nødvendigt at vælge mellem projekter, så har styregruppen bag ShippingLab besluttet at se på følgende kriterier i forbindelse med udvælgelsen.
Project is in-line with the government's maritime growth plan.
Project delivers benefits on both short- and long-term.
It is clear, how this project generates value for partners and stimulates growth in Denmark (jobs, taxable profits).
Project couples latest research with technology development and industry demand in a new and novel way.
Project application & budget overview is well-written.
A strong team is behind the proposal with a clear commitment to deliver. Minimum 2 companies and 1 research institution.
A doable plan and strategy exists on how to execute project itself – and how results can be scaled afterwards.
Kom med til et af de næste arrangementer for at sætte fart på projektforslagene.
There are no upcoming events at this time.
ShippingLab er et partnerskab om forskning, udvikling og innovation i Det Blå Danmark.
Visionen er, at Danmark skal være driver for fremtidens smarte skibsfart.
Ved at realisere fremsynede projekter bidrages til løsningen af samfundsudfordringer og skabelsen af konkurrencefordele. Der sigtes på:
At fremskynde den maritime teknologiudvikling og -anvendelse.
At udfordre systembarrierer og rammevilkår.
At skabe værdi på kort, mellem og lang sigt – konkurrencefordele, arbejdspladser, m.v.
At synliggøre fremtidens kompetencebehov
At formidle den opnåede viden i Danmark og internationalt.
ShippingLab inddrager og favner bredt ved at inkludere hele værdikæden i Det Blå Danmark – fra etablerede virksomheder til underskoven af nye virksomheder, universiteter og maritime professionsskoler, GTS-institutter, organisationer og offentlige styrelser m.v.
Projekterne drives af medlemmerne, mens ansvaret for den røde tråd i projektporteføljen hviler på ShippingLabs styregruppe. Projekter i ShippingLab skal have et erklæret formål og støtte visionen. Projekterne skal styrke forskning, udvikling, afprøvning og validering af innovative løsninger.
Målsætningen er, at ShippingLab skal udvikle sig til en blivende udviklingsplatform i Det Blå Danmark, som kontinuerligt modner nye idéer og fornyer projektporteføljen.
Vi ønsker at realisere projekter indenfor tre kategorier – de visionære demonstrationsprojekter, korte projekter som sigter mod konkret indsamling af fakta og ny viden, samt aktiviteter som understøtter data- og vidensdeling i Det Blå Danmark.
Visionært
Et større projekt med en samlende vision, som inspirerer og fanger opmærksomhed. En teknologidemonstration, som skaber efterspørgsel og trækker udviklingen fremad.
Tidsramme: 2-4 år
Et samarbejde med flere partnere, GTS, forskning, samt mindre og større virksomheder. Projektet ledes af en stor virksomhed, som garant for investering og vilje til gennemførsel.
Kort & Konkret
Afprøvning af teknologi eller forretningsmodel med henblik på at tilegne specifik viden. Teknisk sandkasse til at bygge en prototype eller "lege" med den seneste teknologi eller forskning. Temaet er 'hvad kan vi lære'.
Tidsramme: 3-6 måneder
Samarbejde mellem store og små aktører. Fokus på vidensdeling og entreprenørånd, f.eks. hvor partnerne samles til korte sprints i projektperioden.
Samarbejde
Projekter med henblik på at dele data og videreformidle viden i Det Blå Danmark.
Aktiviteter som understøtter innovation, entreprenørskab og åbent samarbejde indenfor ShippingLab – og som kontinuerligt modner nye idéer og fornyer porteføljen af aktiviteter.
Hvilke temaer skal vi fokusere på i ShippingLab? Emnerne er endnu ikke fastlagte og bidrag er meget velkomne.
Så derfor – hvordan kommer Det Blå Danmark i front indenfor den hurtigt voksende maritime digitalisering og automatisering? Hvordan øger vi efterspørgslen på 'Quality Shipping' og grøn transport – og skaber nye forretningsmuligheder på basis heraf?
Listen nedenfor er dynamisk og vil blive udviklet i takt med de indkomne forslag.
Organisationer bag ShippingLab
Gruppen bag opstarten af ShippingLab repræsenterer et udsnit af branchen i Det Blå Danmark; men dette er ikke et lukket initiativ og alle er inviteret til at deltage.
Tilmeld dig vores mailingliste og få relevante og topaktuelle nyheder om nye aktiviteter og tiltag fra ShippingLab.
Download template
til projektforslag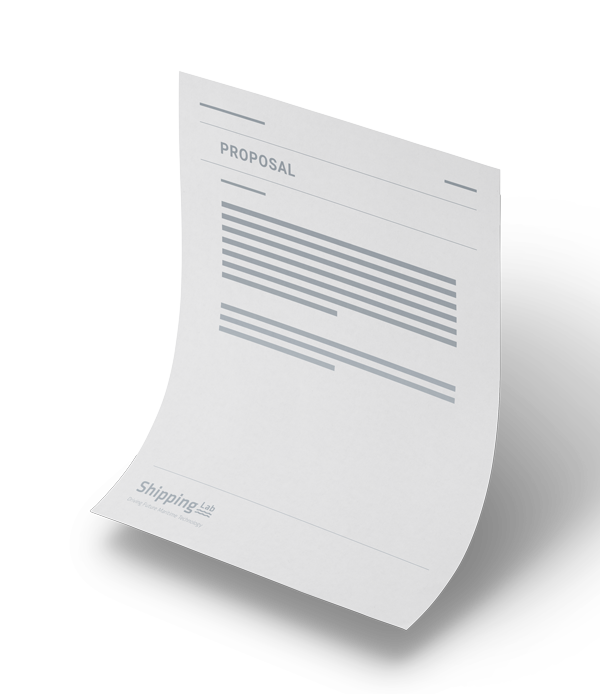 Driving Future Maritime Technology
Driving Future Maritime Technology